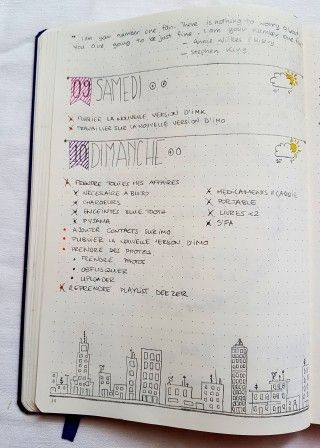 For me, writing a Bullet Journal / Bujo is what made the difference:
I'm always reminded of what my goaIs are; because I like my notebook, it's so cute, I have positive memories attached to it, it's a bit like my comforter, I want to have it around, and so I often use it. Therefore I see my goals every day, I talk to people about them, I organise my time so I can act on them, and I achieve what I wanted to achieve!
It's good for my mind and my body. Being creative with my Bullet Journal brings me back to those happy times when, as a little girl, I had all the time in the world for drawing. And as Picasso said "art washes away from the soul the dust of everyday life". I stop for several creative moments in the day.
Bullet journaling, is custom made to tailor my needs. With my wishlist I take the time to find out what makes me happy – starting with simple things. We all have different needs, and if I consciously make a list of what nourishes me(ex a list of my favourite hikes in and around Paris (I live in Paris), or of the books I want to read this year), I can organise them and treat myself to them more often, instead of going for a more common but less meaningful activity to me, like watching TV for hours. Consequently I live a balanced, and meaningful life. A life full of joy.
If you want to see the site of the person who created bullet journaling, you'll get tips to get you started, just click here!