During or after confinement working from home with children can feel like you now have two full time jobs! Here are a few tips to help you!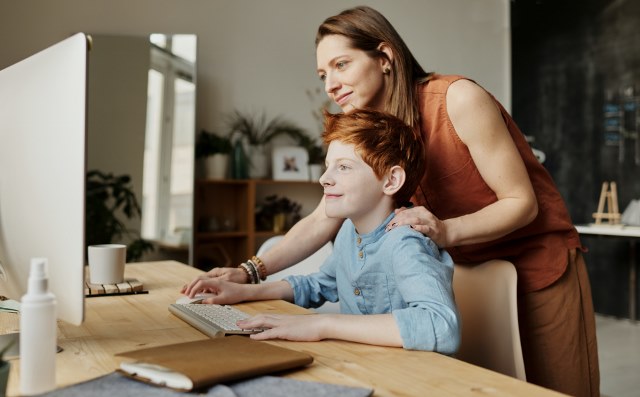 Some people say you should schedule working hours and stick to them. All parents know doing exactly what you have planned with your kids around is if not impossible, very difficult. Concentrating with children around isn't as easy as in a quiet office. It's because we hope it will be the same that we can feel frustrated.
So let's try to do our best, but not be to hard on ourselves.  Try to set reasonable goals you can achieve in one day. Maybe your workday will be longer with you going back to the computer after dinner, or early in the morning. But at least you won't have spent any time commuting, and you will have spent more time with your family than you usually do.
First make plenty of activities available to them, maybe by changing them each day. Make sure they will have had played with all or most of their toys, and had access to all their colouring and activity books. Do that by bringing down what is too high up on the shelves, or forgotten for too long under the bed.
Then get outside help when you can (I'm not talking traditionnal babysitting here obviously). We have been lucky enough that our son's grandparents have skyped with him almost every day, reading books to him, playing guessing games, or playing games through sites like jeux.fr (and using teamviewer to control his screen). His latest whim is discovering a new story he will then tell them when he "sees them". You can maybe also enrole other older family members who will be happy with the distraction!
If you want good quality ressources when you really need to put your child in front of a screen, so you can have that important phone call, or concentrate, click here!
Furthermore, children regularly need their parents' attention. I find I give my son his time with me rather sooner than later. Once he has had his dose of cuddling, playing or talking, he seems to detach more easily, and is happy doing something else, or going to see his dad. Some families slip their time by having one parent responsible in the morning, the other one in the afternoon.
Get some physical activity together, whether it's going outside in your garden, or a brisk walk in the neighbourhood (if regulations permit), or dancing together in the living room. It will be a great break for both of you!
I wish you the best of luck!