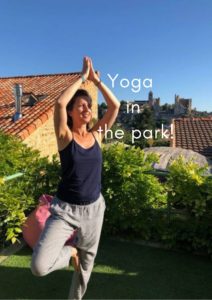 Hi! My name is Laetitia Ronsin. I started yoga 15 years ago, on the advice of my doctor. I have to say, there really was a before and after in my well-being!
I then wanted to become a yoga instructor to share what has helped me in my every day life! I am a certified Vinyasa Yoga Instructor in Paris.
Vinyasa Yoga promotes strength and stamina, as well as flexibility and relaxation.
small group class: 25€
small group, 5 classes: 100€
small group, 20 classes: 360€
Individual class: 45€
Beginners and intermediate. At my studio 15 rue Lakanal 75015 Paris.
For yoga classes outside of the 15th arrondissement at your home or office,
please contact me, a travel fee may apply.