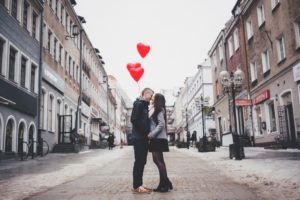 Have you ever noticed that your loved one (be it your spouse, a family member, or a friend) just doesn't seem to appreciate your presents that much?
Maybe it's time you got better at speaking … your love languages!
Inspired by Gary Chapman's The 5 Love Languages.
For you to feel your love tank is full, what is it you, or your loved one needs the most?
You can each get acquainted with the 5 love languages below and share your results.
Does the person you want to show your love to feel more loved mostly after hearing a compliment or thankfull or encouraging words? Bring him or her to a magical place like down the Pont Neuf, at the very front of the island, on the edge of the Seine at sunset. Sit him or her down, and say everything you appreciate in your loved one, or read it out loud if you prefer using a special card!
If you are longing for an uninterrupted conversation where you can both connect, you can have a meal together in a special place of grandeur. The time span is perfect and the new context will highten your spirits and help you connect. The idea here is listening to each other. Ask questions in a real desire to listen to your partner's feelings, thoughts and desires. And let your souls converse. My father took me to Café Le Zimmer a few years ago, and I still keep that out of the ordinary memory close to my heart!
If doing something fun is what you are looking for, suggest going to an event; a burlesque dancing show or class with your girlfriends  at https://www.olalaparty.com Get your partner to invite you to a fun evening to watch the "How to become a Parisian in one hour" show! Or share a part of French history by taking your collegues, or older children to participate in the escape game called "le cachot de la Bastille" with Gamescape Paris.
If someone is excited by gifts, whether they be expensive or not, or even made or found, it's that they probably see them as a visual symbol of love, the fact you have been thinking of them.  If you find it difficult choosing a gift, ask family and friends if they have an idea of what kind of presents that person usually likes, and what are his or her passions at the moment. I have a friend who loves Le Creuset cookware above all! Because she says all their items are so pretty, whatever you bring to the table in them looks delicious and perfect! Her husband remembers this, and she is overjoyed each time she gets something new from their catalogue! Her main love language clearly is receiving gifts!
But someone who is usually critical or uninterested by presents, might just have another primary love language. Read on to find out what it is!
If someone is performing an act of service for you, they are taking action to getting things done and weight off your shoulders. This can go from chores to solving one's most demanding problems. If you don't have time or the ability to help someone get untangled with what they are struggling with or need assistance with, but know it would bring them joy, why not get them a gift certificate to start them off in the direction they want to go? Are you at a turning point in your life, but feel the clutter in your home is pulling you back? Want your family or friends to treat you to a session with a home organizer, they can go to www.joyeveryday.fr You could give a good friend the luxury of a session with friendly Personal Stylist Anelle Coetzee to learn to mix and match what he or she have in their wardrobe to feel more energized.Or do you want help getting your goals met in 2018? Those dearest to you will be happy to help you get there by getting you to meet personal and professional coach Marianela Gonzales.
In the middle of all the hustle and bustle of your busy life, do you need to unwind physically?  If you are looking to treat yourself, get a massage in the intimacy of Sandrine Nicolas's parisian apartment. On leaving her rooftop view apartment, in her street, grab some warm gluten free bread or croissant at Bakery and Patisseries Chambellan, they are so good, famous French chefs Joël Robuchon et Alain Ducasse order for their restaurants there! Or if you want to bring a friend or your partner to a divine spa that is so exclusive you will have the impression you have privatised it, go to l'Echapée in Paris! They offer a big warm 35°C pool and whirlpool in a beautiful and cosy space under a glass roof, hammam and massages.  You can also have lunch there, and they give you a bathrobe, extra towel and flip flops. Wednesdays and Thursdays are for women only.
Found your love language(s)? Merry Christmas!